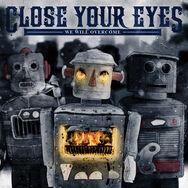 We Will Overcome is the debut album by Texas melodic hardcore band Close Your Eyes and was released on February 16, 2010.
Music videos were produced for the three singles: "Song for the Broken", "The Body", and "Digging Graves".
This album is the last to feature former drummer David Fidler, before his departure from the band.
Track listing
Edit
"A Proclamation" - 3:53
"Friends Are Friends Forever" - 3:13
"xChet Steadmanx" - 3:21
"Digging Graves" - 2:48
"The Body" - 4:03
"Song for the Broken" - 4:09
"17:20" - 2:16
"Wake Up!" - 3:28
"Bitter Path" - 3:53
"Something Needs to Change" - 4:39
"Arms Raised" - 4:09
Personnel
Edit
Close Your Eyes
Andrew Rodriguez - guitar
Brett Callaway - vocals, guitar
David Fidler - drums, percussion
Shane Raymond - lead vocals
Sonny Vega - bass, vocals
Production
MD Thompson - production & engineering
Chris Goodwin - production & engineering
Ad blocker interference detected!
Wikia is a free-to-use site that makes money from advertising. We have a modified experience for viewers using ad blockers

Wikia is not accessible if you've made further modifications. Remove the custom ad blocker rule(s) and the page will load as expected.