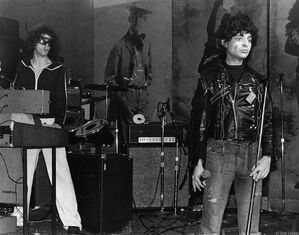 Suicide was a Electronic Proto Punk band from New York City, formed in 1970. Composed of vocalist Alan Vega and instrumentalists Martin Rev, pioneering minimalist electronic music that was way ahead of time. The band consist of synthesizers and primitive drum machines. During their early performance, it was always confrontational and ended with violence. Suicide was the first to use the phrase " Punk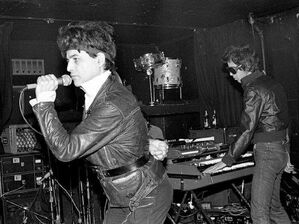 music " in an advertisement for their concert in 1970.
Even though Suicide was never popular to the general public, the band is recognized as the most influential acts of their era. Influencing the Industrial, Techno, and Electronic scenes of the 1980s and 1990s.
Band Members
Edit
Alan Vega - Vocals
Martin Rev - Synthesizer
Discography
Edit
Albums
Suicide ( 1977 )
21 1/2 Minutes in Berlin / 23 Minutes in Brussels ( 1978 )
Suicide: Alan Vega · Martin Rev ( 1980 )
1/2 Alive ( 1981 )
Ghost Riders ( 1986 )
A Way of Life ( 1988 )
Why be Blue ( 1992 )
Singles & Eps
Cheree ( 1978 )
Suicide/ Real Kids - Johnny/ Solid Gold ( 1978 )
Dream Baby Dream ( 1979 )
23 Minutes in Bruxelles ( 1980 )
Surrender ( 1988 )