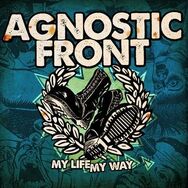 My Life My Way is the tenth full-length studio album from New York hardcore band, Agnostic Front released on March 4, 2011. This album was recorded at Mana Recording Studio in Tampa, Florida by Erik Rutan and produced by Freddy Cricien of Madball.
Track listing
Edit
"City Streets" - 2:22
"More Than A Memory" - 2:39
"Us Against The World" - 2:16
"My Life My Way" - 3:51
"That´s Life" - 1:20
"Self Pride" - 3:13
"Until The Day I Die" - 2:20
"Now And Forever" - 2:51
"The Sacrifice" - 2:59
"A Mi Manera" - 2:50
"Your Worst Enemy" - 2:20
"Empty Dreams" - 2:19
"Time Has Come" - 2:51
Personnel
Edit
Agnostic Front
Production
Recorded at Mana Recording Studio, Tampa, Florida
Produced by Freddy Cricien
Engineered and mixed by Erik Rutan
Mastering by Alan Douches
Ad blocker interference detected!
Wikia is a free-to-use site that makes money from advertising. We have a modified experience for viewers using ad blockers

Wikia is not accessible if you've made further modifications. Remove the custom ad blocker rule(s) and the page will load as expected.