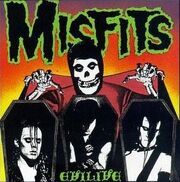 Evilive is a live album by The Misfits. It was recorded at two live performances in November and December of 1981, and released by Plan9 Records in December of 1982. The title is a palindrome, meaning it reads the same forwards and backwards. It is also a play on The Misfits' love of "evil" imagery and the fact that it is a live album.
Track Listing
Edit
20 Eyes
Night of the Living Dead
Astro Zombies
Horror Business
London Dungeon
Nike-a-Go-Go
Hatebreeders
Devil's Whorehouse
All Hell Breaks Loose
Horror Hotel
Ghouls Night Out
We Are 138
Ad blocker interference detected!
Wikia is a free-to-use site that makes money from advertising. We have a modified experience for viewers using ad blockers

Wikia is not accessible if you've made further modifications. Remove the custom ad blocker rule(s) and the page will load as expected.