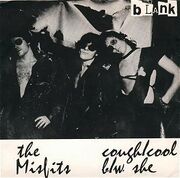 "Cough/Cool" was the first single released by the Misfits. Released on the bands' own label, Blank records (later Plan 9), only 500 copies were printed.
Track listing
Edit
"Cough/Cool"
"She"
Band Lineup
Edit
After having his name spelled wrong on the sleeve, Jerry Caiafa told Glenn that from then on he would be "Jerry, only Jerry", which gave him his lifelong stage name.
The song "Cough/Cool" is the only recorded Misfits' song to feature Glenn Danzig's electric piano playing.
Ad blocker interference detected!
Wikia is a free-to-use site that makes money from advertising. We have a modified experience for viewers using ad blockers

Wikia is not accessible if you've made further modifications. Remove the custom ad blocker rule(s) and the page will load as expected.