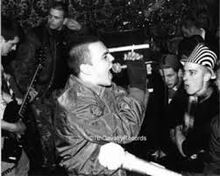 Combat 84 was a English Oi! band from London, England, formed in 1981 by ' Chubby' Chris Henderson and ' Deptford' John Armitage.
The band composed of Chris Henderson ( vocals ), John Armitage ( bass ), Jim ( guitar ), and Brownie ( Drums ) and played their first gig supporting The Last Resort at the Walmer Castle, Peckham. Roi Pearce ( the lead singer of The Last Resort ) liked the band and agreed to produce two songs for them, resulting" Soilder " and " Combat 84" . The band was described as the new Sham 69.
The band was more right-leaning lyrically, Combat 84 received criticism for recording a song that advocated capital punishment for rapist and a song that supported nuclear weapons. Controversy erupted even more after the band was featured in a BBC documentary, during which Chris Henderson alleged that the police were tougher on the White skinheads than the Black rioters and blamed Asians for the Southall riot. The group later changed the bands name to The 7th Cavalry to advoid stigma of the name Combat 84.
Combat 84 were often labeled as a Neo - Nazi, White power, or Rock Against Communism band, even though the bands songs contain no racist lyrics nor they were ever part of a right-wing political party.
Discography
Edit
Albums
Send in the Marines ( 1984 )
Death or Glory ( 1987 )
Charge of the 7th Cavalry ( 1989 )
Orders of the Day ( 2000 )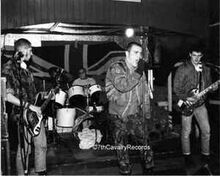 EPs
Orders of the Day ( 1982 )
Rapist ( 1983 )
Tooled Up ( 2000 )
Reference
Edit