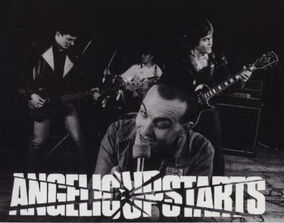 Angelic Upstarts is a English punk rock band that was formed in South Shields, England in 1977. Releasing their first album Teenage Warning by Warner Bros. Records in 1979. Allmusic calls them " One of the period's most politically charged and thought - provoking groups. " The band espoused an anti-fascist and socialist working class philosophy, and have been associated with the skinhead subculture.
Ad blocker interference detected!
Wikia is a free-to-use site that makes money from advertising. We have a modified experience for viewers using ad blockers

Wikia is not accessible if you've made further modifications. Remove the custom ad blocker rule(s) and the page will load as expected.