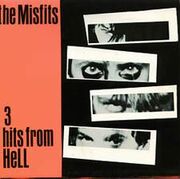 3 Hits from Hell is the fourth EP released by The Misfits. It was recorded in August and September of 1980 and released by Plan9 Records in April 1981. During the recording session that spawned this EP, Bobby Steele was replaced by Doyle, Jerry Only's younger brother, on guitar. This EP, like Night of the Living Dead before it, contained an ad for the Fiend Club.
Track Listing
Edit
London Dungeon
Horror Hotel
Ghouls Night Out
"London Dungeon" was written about Glenn's experiences in a Brixton prison on December 2, 1979.
"Horror Hotel" and "Ghouls Night Out" are based on horror films from 1960: Horror Hotel and Night of the Ghouls, respectively.